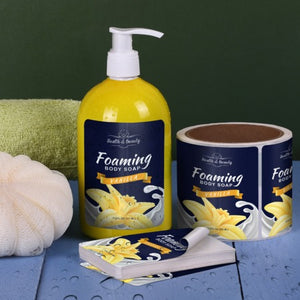 Waterproof Labels
DOZPackaging
Sometimes a little water is all it takes to ruin your packaging. But that certainly won't be the case when you try waterproof label printing. By working with a waterproof label printer like DOZPackaging, you can create labels suited for shampoo bottles, lotion bottles, body products, or containers that would typically be exposed to water. These labels are tear-proof and stick to almost any surface.
Just because our water resistant labels are printed on waterproof label paper doesn't mean you're stuck with limited design options. You can still have a variety of different shapes. Cut-to-size and roll options are also available so you can print them according to your needs. There are pre-configured size options right off the bat but you can always pick a custom size if you need something you don't see listed. Whatever specifications you end up choosing, you'll certainly end up with a product that can survive harsh environments without losing its adhesive quality.
Ordering waterproof labels is easy. Just upload your file for a free file check. You can opt to receive a proof so you can see for yourself how your design will be printed and cut. Alternatively, you can download templates and figure out where you want design elements to fall so important details are not lost during the cutting process. But if you don't have a design ready, our online design tool has helped many entrepreneurs create stunning waterproof decals that they now use to impress their customers.
GET THIS IN YOUR CUSTOM SPECIFICATIONS:
Dimensions: All Custom Sizes & Shapes
Paper: 70 lb. Label Gloss \ 70 lb. Label Matte \ 70 lb. Label High Gloss (UV) \ 4 mil. White Vinyl High Gloss (UV)
Shape: Square/Rectangle \ Circle \ Oval
Quantities: Lowest 250 - Highest 500.000
PROCESSING & SHIPPING:
Proof: Digital PDF Proof or 3D Mock-up
Turn Around Time: 8 To 10 Business Days
Shipping: Shipped By Express Air,  Free shipping on eligible orders.
Inquiries: In case of any further queries, concerns or a quote, feel free Live Chat, Call or Email Us! 
After order is placed, confirmation email with order number will be send. Please reply to that email with your design and your order detail!