Some of our industries ...
DOZPackaging | Retail Packages & Printing
DOZPackaging is a leading global packaging firm with networks of facilities and affiliates in the United States, Canada, Europe and China, offering the full spectrum of packaging solutions from start to finish. With the understanding that customers make purchasing decisions largely based on the product perception and appearance, we strongly believe that businesses large or small should have access to equal opportunities when marketing their products. Let us help you with your packaging and printing needs for with guarantee of the lowest prices.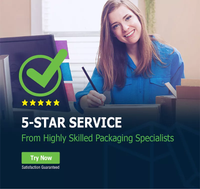 Ultimate Experience
From the first interaction to unboxing your products, we aim to provide the highest level of care in our services, products and solutions.
One Destination
Packaging knowledge, resources, support and products all at one central location.
Full Spectrum Packaging
Providing access to all packaging types and styles will give our customers the freedom they need to achieve their packaging goals without limitations.
Worldwide Operation
By leveraging resources, global supply networks and experienced teams worldwide, we provide the most efficient and comprehensive solutions to customers globally.
Contact Us
SOME OF OUR CUSTOMERS ...
What our Customers are saying ...
" They specialize in smaller orders and rates were the lowest I could find by far! ★★★★★"

Karen Stevens
" The materials used were great and the finished product looks exactly as I pictured it. ★★★★★"

Nancy Flower
" Fast and quality service with the lowest prices, we could'nt go any wrong. ★★★★★"

Kevin Merc