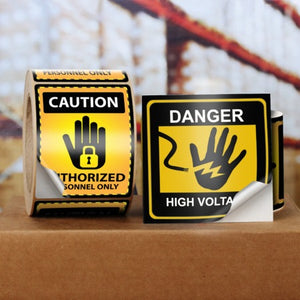 Warning Labels
DOZPackaging
Do you ship fragile products that need extra care?  Or products that need to be kept away from children?  Be it hazardous chemicals, electrical appliances, or simply toys, you're going to need hazard labels and safety signs. Don't be restricted by store-bought warning labels when you can easily communicate warning signs and safety symbols created specifically for your needs. 
Nothing beats a clearly visible warning label for preventing accidents or potential injury. Whatever caution message you need to convey, our warning label printing service will help you do the job. Choose from custom cut-to-size or roll labels, and we'll provide you with the best materials for your requirements. Warning labels can stick directly onto products or to the packaging of dangerous chemicals, electrical appliances or equipment, toys, household cleaners, and more.
Our 70 lb. gloss and matte paper labels work for most applications and are an excellent choice if you are on a budget.  Should the labels need to be exposed outdoors, we would suggest our durable waterproof vinyl material.  These versatile labels are rectangular or square and can be cut to the exact size that you need. They are easily applied by hand; just peel off the scored paper backing and stick to a clean, dry surface.
Get in touch with us to know more about roll warning labels or start off by downloading our file setup templates and submitting your file for our famous free file review!
GET THIS IN YOUR CUSTOM SPECIFICATIONS:
Dimensions: All Custom Sizes & Shapes
Paper: 70 lb. Label Gloss \ 70 lb. Label Matte \ 70 lb. Label High Gloss (UV) \ 4 mil. White Vinyl High Gloss (UV)
Shape: Square/Rectangle \ Circle \ Oval
Quantities: Lowest 250 - Highest 500.000
PROCESSING & SHIPPING:
Proof: Digital PDF Proof or 3D Mock-up
Turn Around Time: 8 To 10 Business Days
Shipping: Shipped By Express Air,  Free shipping on eligible orders.
Inquiries: In case of any further queries, concerns or a quote, feel free Live Chat, Call or Email Us! 
After order is placed, confirmation email with order number will be send. Please reply to that email with your design and your order detail!