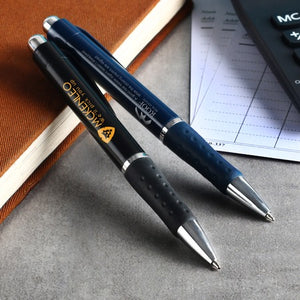 Executive Pens Printing Service
DOZPackaging
Executive pens have wide barrels and comfortable rubber grips, great to hand out to people who're most important to your business! All pens are medium ballpoint with black ink. These executive pens come black, blue, burgundy and green barrel colors. White, silver or gold imprint colors complement these rich pens. It has more than ample space for your logo or message with its imprint area of 1.81" inches wide and 0.74" inches high.
GET THIS IN YOUR CUSTOM SPECIFICATIONS:
Dimensions: All Shape
Model: Executive Pen
Print Area: 1.81" Wide x 0.74" High
Quantities: Lowest 250 - Highest 500.000
PROCESSING & SHIPPING:
Proof: Digital PDF Proof or 3D Mock-up
Turn Around Time: 8 To 10 Business Days
Shipping: Shipped By Express Air,  Free shipping on eligible orders.
Inquiries: In case of any further queries, concerns or a quote, feel free Live Chat, Call or Email Us! 
After order is placed, confirmation email with order number will be send. Please reply to that email with your design and your order detail!