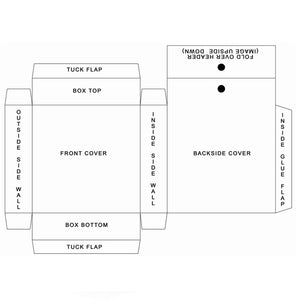 Box Dieline Design Service
DOZPackaging
Regular price $199.00 $99.00 Sale
What is a dieline design and how will it help benefit you? A dieline, in the simplest terms, is a 2d template of your custom box when it is flat and unassembled. The dieline design will be in vector format and will tell the reader the dimensions, the folding panels, bleeding, the area reserved for glue (if applicable), and more. You dieline may also include your custom artwork, and will help you in folding and assembling your custom box.

Dieline designs by DOZPackaging are offered for our box styles folding carton or corrugated, and are also offered for custom box structures that are created based on a sketch. You can find a dieline design for a pre-determined box structure by clicking the SKU # or select "custom box style" in the box style drop down menu. If you have already completed your order, you will have received a dieline file that is in vector PDF format by Email, usually within three business day after your order.

Key Elements To Dieline Requests
Your dieline design will either be a pre-determined box style offered by DOZPackaging, or a custom made design. The measurements will be based on your product to ensure a good and reliable fit inside the custom made box. If you are using a unique box style, then take special measures to ensure that the box size is appropriate and will fit your product.

The paper stock is the material that your custom box will be made out of. It is a highly important decision and revolves around more than just aesthetic reasoning of the choice. The weight capabilities of different paper stock may need to be taken into account for heavier products. A paper stock that is too thin for the weight of your product will be flimsy, while one that is too thick for lighter products will seem rigid and may cause issues with the closure. If you are having issues deciding on the right paper stock for your product, have a DOZPackaging customer care agent guide you along the way to the right choice. You will request your paper stock choice when you request your dieline design.

Still have questions about your dieline design? Contact a DOZPackaging agent today and have all your questions answered!